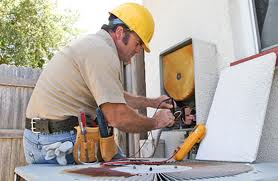 Artisan Contractor Insurance in Fargo, Moorhead, ND.
As a local artisan, such as a carpenter or plumber in Fargo, Moorhead, ND., every job brings its set of challenges and risks. Enter Fargo Insurance Agency with a specialized insurance solution crafted just for you. But what exactly does this artisan contractor insurance entail? Let's delve deeper.
What is Artisan Contractor Insurance?
This insurance primarily aims to shield you against unexpected events in your daily operations. Partnering with Fargo Insurance Agency ensures that our bespoke insurance plans in Fargo, Moorhead, ND. have got you covered, letting you concentrate on mastering your craft. Dial 701-353-7141 to explore more about our offerings.
Coverage At a Glance
It's crucial to recognize the typical claims covered under artisan contractor insurance. This understanding can provide a clearer picture of its expansive protection. Here's a snapshot:
Property Damage: Includes damages to a client's property or your work tools.
Injuries: Any accident causing harm to others.
Professional Errors: Mistakes or overlooked details during work.
Theft or Vandalism: Misplacement or damage of tools due to theft or malice.
Why Partner with Fargo Insurance Agency?
Fargo Insurance Agency has been a reliable ally to the artisan community of Fargo, Moorhead, ND. over the years. Our rich experience empowers us to grasp the intricate challenges you encounter. Whenever you're in doubt or need assistance, reach us at 701-353-7141.

Comprehensive Coverage

24/7 Customer Assistance

Trusted in Fargo, Moorhead, ND.
Ready to Secure Your Craft?
With Fargo Insurance Agency's artisan contractor insurance, immerse in your work with the assurance of comprehensive protection against unforeseen mishaps. Our longstanding clientele across Fargo, Moorhead, ND. vouches for our dedication and superior service. Keen to embark on this protective journey? Call us at 701-353-7141.
Alternatively, you can opt for a digital route using our online quote request form. Whichever way you lean, with Fargo Insurance Agency, you're always in proficient hands.
Thank you for considering Fargo Insurance Agency as your trusted artisan contractor insurance partner in Fargo, Moorhead, ND.. We are eager to assist!